The SAFE Organizaton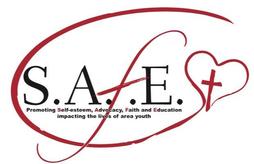 The S.A.F.E. (Self-esteem, Advocacy, Faith and Education) organization is a 501 c 3 nonprofit organization providing mentorship and educational services to youth in Orangeburg and surrounding counties. Our mission is to promote self-esteem, advocacy, faith and education to impact and empower area youth.
Show All
Since the establishment of SAFE, we have formed partnerships with local school districts, community leaders, the Orangeburg Sherriff's Office, and the Department of Juvenile Justice. We have hosted numerous activities to promote the betterment of youth in Orangeburg and surrounding counties. We have partnered with Branchville High School and Lockett Elementary School in Branchville, SC and conducted events such as: Teen Dating Violence and Prevention (Orange 4 Love Day), No Texting and Driving Campaign, and the Girl Empowerment Day for girls ages 11-17. One component of Girl Empowerment Day specifically addressed the issue of teen pregnancy and prevention. We also hosted a "Preparing for Prom" workshop, giving junior and senior students tips on pregnancy prevention, consequences of unprotected sex and the benefits of waiting while dating.
Malayshia M.
Going to Girl Empowerment day has benefited me a lot. Not only did I attend that day, but others. Meeting other people in my age group helped me to speak out and make the best out of everything I do. Mrs. Aiken started this organization out of her own personal experience to help young people in the community so they can go on the right path and that's what I call a true role model. I loved everything about the camp and the people I have been around.

Tiesha D.
Being a part of the Girl Empowerment Day has not only taught me a lot about others, but has also taught me a lot about myself. As a college student, I am learning that there are people who will not believe in you or your dreams, but I have learned throughout the Girl Empowerment Day that as young women, it is important to love yourself first and never let the opinion of others determine your success. With the power of prayer and a lot of self-confidence and determination, I am able to push myself forward and remain humble towards my dreams. As women, we must encourage and lift each other up because that is all a person needs in order to make the next move to reach their success. The Girl Empowerment Day has been a blessing in my life so now I am able to spread words of encouragement and blessings to others and I encourage you all to do the same.

Malayna M.
The SAFE organization was a great empowerment day experience. We met a lot of new people that was around our age and was able to bond great with them. It was very empowering when the speakers gave us the confidence believe in ourselves. Overall, this was a great experience.

Andraya C.
The girl empowerment day is a day of spreading love, and encouragement. I have learned so much about myself, and made a lot of new friends. My connection with God became stronger. I learned who I was as a young women and set great expectations for myself. The girl empowerment day is a day for uplifting our young girls and it has been an honor to be a part of it these last couple of years.

Tedreauna B.
The Girl Empowerment day was very helpful to me. It made me feel more confident about myself! I encourage others to go and realize the positive influences we can have as women!

The funds raised will assist in our efforts to make the Girl Empowerment 3 day Camp a success. The Girl Empowerment day is an event for middle and high school girls that targets social skills and personal development.The funding will also provide the organization with more resources for community outreach, educational trips, seminars and workshops for our youth.