What is Midlands Gives?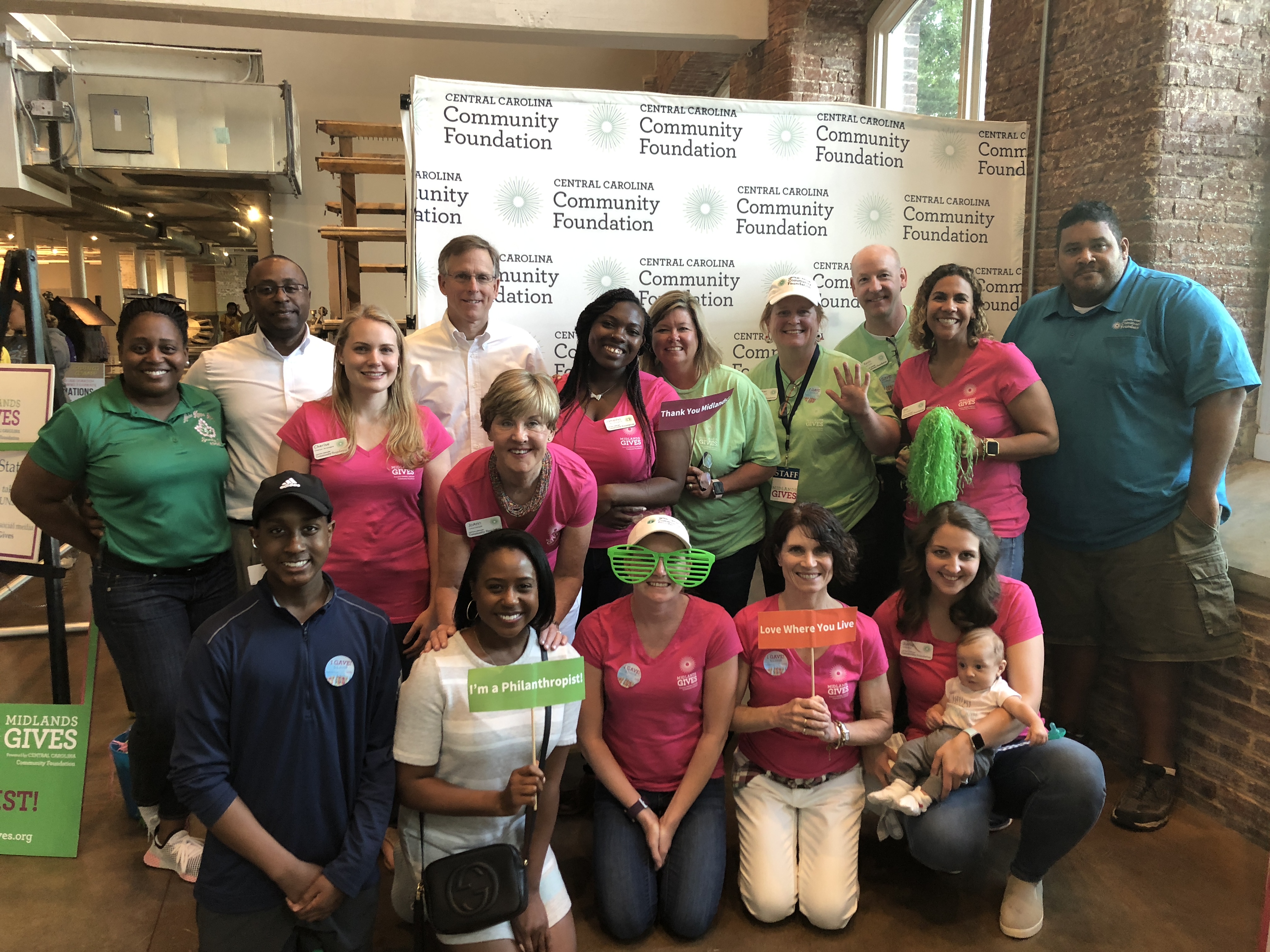 Midlands Gives is a 18-hour online giving event that brings the region together as one community, raising money and awareness for local nonprofits in 11 Midlands counties. During Midlands Gives, contributions of just $20 or more are amplified through sponsored prize incentives. Since its inception in 2014 the event has raised $7,280,500 for local nonprofits.
The sixth annual Midlands Gives event will take place on May 7, 2019 right here, on the midlandsgives.org website.
---
Who is Central Carolina Community Foundation?
Your proud hosts of Midlands Gives! Central Carolina Community Foundation, the Midlands' center for philanthropy, is a nonprofit organization that links charitable people and businesses with areas of need in our community. Our mission is to promote, facilitate, and increase philanthropy to create a sustainable impact within our community through responsible giving.
The Community Foundation serves donors and organizations in the following 11 counties of the Midlands of SC: Calhoun, Clarendon, Fairfield, Kershaw, Lee, Lexington, Newberry, Orangeburg, Richland, Saluda and Sumter.
To learn about the Community Foundation, visit our website at www.yourfoundation.org.
---
What is Midlands Gives?
Hosted by Central Carolina Community Foundation, Midlands Gives is a 18-hour online giving event that brings the region together as one community, raising money and awareness for local nonprofits in 11 Midlands counties.
When is Midlands Gives?
Midlands Gives will take place online on Tuesday, May 7, 2019, from 6:00 am to 11:59:59pm, Eastern Time.
How does it work?
Central Carolina Community Foundation has set up an online giving platform at MidlandsGives.org with searchable profiles of participating nonprofits. All donations will be processed through this website, which allows nonprofits and donors to track the giving on May 7th via the site's leaderboards.
Why is Central Carolina Community Foundation hosting Midlands Gives for local nonprofit organizations?
We are invested in bringing awareness to the nonprofit organizations that make our community a vibrant place for us to live, work, and play. Nonprofit organizations play a huge role in all of our lives and as a community foundation, we are dedicated to supporting the good work that they do. The aim of the Midlands Gives program is to:
Create a community event around online giving that raises the level of knowledge about nonprofit organizations in our community and highlights their positive impact on our well-being.
Grow the base of engaged donors in the Midlands - bringing new donors to our community benefit organizations.
Support our local nonprofit organizations and improve their capacity through training opportunities
Why should I give through midlandsgives.org?
We encourage support of local nonprofits with year-round giving but Midlands Gives was created as a local charitable celebration. It's our day to celebrate the philanthropists in our community and support the work of local nonprofits. Plus, gifts made through MidlandsGives.org are amplified through sponsor prize incentives.
Does approval to participate in Midlands Gives mean that Central Carolina Community Foundation endorses each participating nonprofit's charitable purpose and programs?
While Central Carolina Community Foundation does verify the charitable status of every nonprofit that participates in Midlands Gives, the Foundation does not screen or select organizations on the basis of their charitable purposes or their missions. Giving Day eligibility is based soley on providing services in the 11 counties in the Midlands and an organization's current status as a recognized Section 501 (c)(3) tax-exempt public charity. Therefore, approval of an organization's participation in Midlands Gives does not constitue an endorsement of the organization or its mission by Central Carolina Community Foundation or any giving day partners.
What is a unique donor?
A unique donor is defined as one person or corporation/business. Donors are encouraged to make gifts to multiple organizations of their choice. Each gift to a different organization will be counted separately on the Leaderboard. Multiple gifts made to the same organization using the same credit card will be considered as one gift.
---
Giving FAQs
How do I donate?
To participate, simply log on to MidlandsGives.org on May 7th, complete the giving form, select your charity or charities and make a donation using your credit or debit card ($20 per organization minimum). Your credit card statement will reflect a donation to Midlands Gives, which we in turn forward to your charity of choice. Donors may also schedule a donation beginning two weeks before the giving event, which will then be processed on May 7. Please note, however, that scheduled donations do not count toward prize incentives.

What if the organization I want to donate to is not listed?
You may only donate to the organizations who chose to participate. Registration is open to all 501(c)(3) nonprofit organizations in good standing with the IRS that have a local office in one of the 11 counties served by Central Carolina Community Foundation. If your favorite cause is not listed, encourage them to join us next year.

Is my gift tax-deductible?
Yes, donations through Midlands Gives are 100% tax deductible. When you make a gift to on Midlands Gives.org, your donation is collected by Central Carolina Community Foundation and forwarded on to your charity of choice. The Community Foundation is a 501(c)(3) organization and all donations are deductible to the full extent provided by law.
What are the minimum and maximum donation amounts?
The minimum donation amount is $20. There is no maximum donation. All gifts made on midlandsgives.org are non-refundable.

Are there fees associated with donations given through the Midlands Gives?
As with any credit card transaction, there are typical transaction fees assessed by the credit card companies as well as technology and processing costs to execute the event. The fee is 4.9% per donation (2.1% credit card fee + 2.8% technology fee). Donations made by electronic check will be assessed the 2.8% technology fee plus a 30 cent fee per donation paid by the nonprofit. Donors will receive a tax deduction on the full donation amount.
Want your nonprofit to receive the full donation amount? Cover the transaction fee! Donors have the option to help cover the fees when they checkout, allowing more of their donation amount to go to the nonprofit.
Will donations go directly to my chosen organization the day of the event?
Donations received on Midlands Gives day will be made to the Central Carolina Community Foundation but will be granted back to your organization after the event is completed.
Does Central Carolina Community Foundation receiving any portion of the donations?
No. As a matter of fact, Central Carolina Community Foundation, along with our sponsors and partners, will cover all costs associated with the logistics of Midlands Gives including the website, software, support staff, advertising and media promotion, training and all prizes. It's our way of giving back.
Can donors give by cash or check instead of online?
Midlands Gives is an online only fundraising program. In order for donations to be counted for the program, donations MUST be made by credit card through the midlandsgives.org website. Mastercard, Visa, Discover and American Express cards are all accepted. Donors can also pay via e-checks by providing a bank routing number. Donor Advised Fundholders at Central Carolina Community Foundation may recommend grants from their funds by contacting the Community Foundation.
Some donors may wish to pay by cash or check instead of a credit card. We encourage nonprofits to accept and acknowledge these gifts. Please note, however, in order for a donation to be credited on the leaderboard and counted for purposes of prizes, incentives or bonus pools, the gifts must be made online through the MidlandsGives.org website.
Can a donor give anonymously?
Yes. Donors will have the option to choose to remain anonymous when completing the giving form.
Can a donor earmark their donation in honor/memory of someone?
Yes. Donors will have the option to make those choices when completing the giving form.
What happens if a donor makes a mistake when completing the giving form?
If a donor makes a mistake when completing the giving form, Central Carolina Community Foundation staff will work with that donor to correct the error if possible. If a donor gives to the wrong organization the change can be made immediately. If the donor keyed in the wrong amount for their donation (i.e. $200 instead of $20) we will issue a partial refund to make the donation accurate. Please email midlandsgives@yourfoundation.org if a mistake is made.
Can a donor change their mind and request a full refund of their donation amount?
No. Once a donation has been made, the donor cannot request that it be cancelled. The only exception would be if the donation was duplicated because of a system glitch in which case one of the donations would be refunded.
Can staff, volunteers and board members make donations to their own organization?
Yes, as long as they use a personal credit or debit card and not one associated with the nonprofit organization they are giving to.
Can I give to more than one organization?
You may make donations to multiple organizations that are participating in Midlands Gives. You can add multiple organizations to your "cart" as you're browsing the participants for added convenience when submitting donations. You can also create a donor profile on MidlandsGives.org, allowing you to schedule donations, save payment and contact information, and review your donations.
Can I make my donation using my phone?
Yes. MidlandsGives.org is a "mobile optimized platform" that will make it easy to make a gift on your smart phone. Gifts must be made through the MidlandsGives.org website, however, and cannot be made over a phone call.
Is my gift safe and secure?
Yes. The MidlandsGives.org website is supported by CiviCore and it is an SSL secured site. SSL (Secure Sockets Layer) is the standard security technology for establishing an encrypted link between a web server and browser. The link ensures that all data passed between the web server and browsers remain private and integral.
How will the donations be reported on my credit card statement?
Your credit card statement will read "Midlands Gives."
How can I make a gift "In Honor of" or "In Memory of" someone?
On the donation form, you may use the Notes field to include a note that your gift was made in honor of or in memory of someone and that information will be passed to the nonprofit.
Can I get a refund on my donation?
Each gift is tax-deductible and irrevocable.
Will I receive a receipt for my online contribution?
Yes, a formal email tax acknowledgement from Central Carolina Community Foundation will be sent automatically as soon as the donation is made. The donor will see "Midlands Gives" on their credit card statement. In addition, donors who create an account on the Midlands Gives website will be able to login at any time and retrieve their receipt at any time.
Beyond a donation, how can I support my favorite nonprofit on this day?
You can spread the word among your friends and networks about Midlands Gives. Your favorite nonprofit may also have an online media campaign or other ideas to promote the day.
What are matching funds and how do I know if my favorite nonprofits has them?
Matching funds are additional funds raised by nonprofits to help challenge donors and the organization to meet a specific goal. If an organization has raised matching funds the amount and match criteria are listed on their profile on the MidlandsGives.org website.
How will I be recognized as a donor?
You will receive an immediate thank you and tax receipt from Central Carolina Community Foundation. Your chosen nonprofits may also send a thank you to let you know how your donation made a difference. You can choose to make an anonymous donation if you prefer. Anonymous donors will receive a tax receipt, but will not receive a thank you from the nonprofit organization to which they contributed.
Do the nonprofit organizations receive my information?
Nonprofits receive the information of any donor who made a gift to them so they can thank you and keep you informed of their future activates. However, you may mark your gift as anonymous and your information will not be sent to the nonprofit. Donor information is NEVER given or sold to third parties.
What will Central Carolina Community Foundation do with donor information?
Donors participating in the Midlands Gives may receive standard emails from Central Carolina Community Foundation from time to time promoting Midlands Gives as well as information on donor education events or the use of gift vehicles to support their favorite organizations. Donors can opt-out of the emails at any time.
I have more questions!
Feel free to submit your questions to midlandsgives@yourfoundation.org or, if you have a burning question that just can't wait, pick up the phone and call us at 803.254.5601.