Sharing God's Love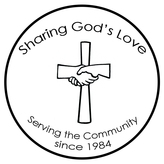 We are a Christ based ministry that serves our client families when they are facing crisis due to job loss,
illness or other hardship circumstances. We provide food, clothing, household goods
and when able, financial assistance to pay for utility bills.

"Therefore, I command you to be openhanded toward your brothers
and the poor and the needy in your land." Deu.15:11B
Show All
Our programs include providing food, clothing and financial aid (when available)
to client families from the following zip codes - 29063, 29210, 29212, or 29002.
In 2016 Sharing God's Love served 6098 People (2138 families), of which 518 were
new families needing our services.

An important aspect of our ministry is a time for prayer and spiritual support
that is offered to our clients as well as personal prayer journals that they can
take home and use.

As we serve many children within our client families,
we have an afterschool snack pack program as well as
our annual Back to School Supply Drive that
ensures the children have the needed supplies to
start their school year off great. We collect new school
supplies and new/nearly new book bags.


We have many clients who come back after they have navigated their crisis
and tell us what a profound impact we had in their life.
They often give back by way of donations and volunteering
of their time when they can.
Please Help Sharing God's Love Grow

With God's leading, Sharing God's Love is growing! We are expanding to serve the families in our community in a more efficient and effective environment. Our central location is strategically beneficial for the 108,034 persons living within our service area. Last year we assisted over 5500 families in our community and several midlands agencies with over a million dollars' worth of donated food, clothing, school supplies, personal care items, and household goods. We also distributed $89,461.00 in utility assistance. We have been very blessed and have already raised $170,000.00 for this expansion project that will allow us to continue for generations to come. Can you help?

We need to raise $280,000. It is a tremendous amount of money…
"...but with God all things are possible." ~Matthew 19:26

Many, many thanks and God bless you!