FBN Productions, Inc. Opera for Kids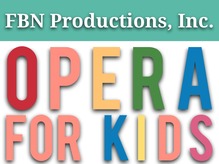 FBN promotes music-drama as an expression of human experience. Civilizations express themselves in song, word, movement & picture. Experience has been separated into concentrations: history, language, mythology, science, physical education & arts. Students rarely witness their studies in a live, interactive format. Opera combines elements to touch all of the human condition. FBN believes presenting opera in the class room provides a unique forum for multi-disciplinary & cross-cultural pursuits.
Show All
FBN brings together young professional opera singers and the best operas written for the young audience in mind. Whether as a resource for the classroom teacher or as an opportunity to expand students' horizons, opera can be informative, entertaining, inspirational, and just plain fun.

FBN's Annual Touring Program:
Every year, FBN's touring program brings the joys of operatic storytelling to children of all ages. FBN's spring 2017 production of "All According to Taste" (a new take on Goldilocks and the Three Bears) was seen be thousands of young people in South Carolina, North Carolina, Georgia, and Florida. In spring of 2018, FBN will be touring a new production, "Hansel and Gretel and the Case of the Deep Dark Woods," with text by Daniel A. Gainey and music from Franz von Suppé. The opera will be performed by FBN Productions, Inc.'s professional artists. FBN will provide a study guide and music preparatory materials. Every performance is followed up by a question-and-answer session with the singers.

Advocate for new children's operas:
FBN has long been an advocate for new operas for children. We have premiered several new works over the years, the most recent was Keith Jameson's "Petunia" in 2014. In March 2017 we were thrilled to record Meira Warshauer's "Elijah's Violin." Warshauer's music has been performed to critical acclaim in North and South America, Europe, the Middle East and Asia. The story is adapted by Warshauer from the story "Elijah's Violin," oral tradition, Egypt, re-told by Howard Schwarz in his collection, "Elijah's Violin and Other Jewish Fairy Tales" (Harper and Row, 1983), with the libretto by Susan Levi Wallach and Meira Washauer. FBN is working to raise funds for a fully staged production in the near future, designed by theatre artist, Kimi Maeda.

Co-Productions of Children's Operas:
It takes a village! FBN is committed to collaborations with other organizations in the promotion and productions of children's operas. Past collaborations: Brundibar (2012), a children's opera by Hans Krása, produced in collaboration with Opera at USC and Operatunity Foundation for the Arts

Co-Sponsorship of Carolina Opera Experience:
This past July, FBN once again was a co-sponsor with Opera at USC for the nineth annual Carolina Opera Experience. COE participants created the story and wrote the lyrics for their original operatic production entitled "The Singing Safari," featuring music from operatic classics and original music by Dr. John Valerio. COE is a yearly program where students learn the art of props, make-up, costumes, scenery, and musical preparation in a week-long experience for 5th-10th graders. FBN provides technical support for Carolina Opera Experience. "
"We support FBN because we believe the arts are a vital force and a necessity in this world. FBN is an avenue to keep that life force moving, providing musical stimulus not only for the countless children who experience the performances but also for the young artists who are honing their craft and gaining the hands-on experience they so need to continue carving out their way in this art form." - Beth Clayton and Patricia Racette, Opera Singers

"Thank you so much to all of you for a wonderful performance. There was so much talent on the stage! We were honored to have you. Everyone loved it!" - Tami Roberts, PTO President, Orchard Park Elementary (Fort Mill, SC)

"The kids loved the performance! I am so glad that they can experience opera at our school!" - Patricio D. Aravena, music teacher, Windsor Elementary (Columbia, SC)

"Please convey once again to the members of FBN Productions, Inc. what a wonderful time we had this morning! These singers thrilled our residents and presented a program of arias and duets that will be remembered. Each is extremely talented both in voice and presentation." - William H. WebbIII, Activity/Music Assistant, Still Hopes Episcopal Retirement Community (Columbia, SC)

"The performances today at M. C. Riley were fantastic! Thank you for offering this opportunity. The students laughed and had such a great time." - Kathryn W. Reardon, Music Teacher, M. C. Riley Elementary School and Early Childhood Center (Bluffton, SC)

"What a delightful performance you provided our students with this morning! It was truly priceless to watch the excitement in the students faces. We want to thank you all again for offering this performance to Mead Hall and we can't wait to see what next year will bring." - Aiken Opera Society (Aiken, SC)

"A special thank you to the Chapman Cultural Center and the MUSE for sharing their talents at BSES. Students understand the importance of integrating the arts, music, and writing in order to compose the opera rendition of The Three Bears." - Boiling Springs Elementary School (Boiling Springs, SC)

"You guys are the best!!! Kids had a mesmerizing experience listening to all of you at the Matthews Library here in North Carolina. You guys are so talented! Beautiful voices!" - Isabel Mangiratis, audience member (Charlotte Mecklenburg Library System, NC)

"What a wonderful experience to share with my grandkids. Thank you to the performers who took the time to help the kids understand and enjoy the opera!"
- Kathy Magnarini, audience member (Charlotte-Mecklenburg Schools, NC)

"The kids loved the opera and had a chance to be exposed to new music and terms they have never experienced before. The whole production was delightful!" - Ashley Burns, Art Teacher, Woodruff Primary School (Woodruff, SC)
When a school or other performance venue engages FBN, they are given a quality arts and educational experience, which includes four professional singers, an accomplished pianist, colorful sets and costumes all combined for a memorable and great show. Additionally, there are production and travel expenses. In these uncertain times, schools that very much want to share the joys of live opera with their students don't always feel they can afford to do so. We plan to offer performances either free or at a greatly reduced rate.