Conservation Voters of South Carolina Education Fund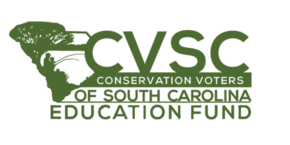 CVSCEF is dedicated to maximizing the participation of conservation minded citizens in public policy decisions made at the state and local levels regarding South Carolina's environment and natural resources. Since 2004, CVSCEF has hosted the Conservation Coalition, assisting the 50,000 members of our Coalition in raising their collective voice to promote clean energy and protect the air, land, and water they love.
Show All
Staffed with policy experts, grassroots organizers, team building facilitators, and communications professionals, CVSCEF is uniquely suited to grow the conservation movement in a rapid and lasting way. When combined with new technology, this same expertise allows us to target conservation-minded supporters and engage, educate, and empower them to support meaningful conservation initiatives at a state and local level.

With the support of the Midlands Gives Community we're on track for another watershed year of movement building in 2019.

In 2018 CVSCEF set the ambitious goal of engaging 6,000 individuals through petitions, letters to the editor, town halls, educational forums, and other outreach methods in support of our air, land, and water. With the support of the Midlands Gives community we were able to go above and beyond those goals.

In 2018 CVSCEF plans to build on that work and ignite the next generation of conservation advocates with our biggest field campaign ever. With your support, CVSC will empower South Carolinians everywhere with the tools and training they need to protect their air, land, and water.