Alala Cancer Society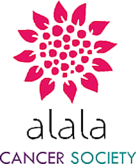 The Alala Cancer Society (ACS) is an independent 501(c)3 non-profit organization dedicated to cancer survivors throughout South Carolina. With decreasing coverage offered by health insurers, ACS was born out of the need to help the increasing number of un and underinsured cancer patients. The vision of the Alala Cancer Society is to provide financial support for post-surgical cancer needs or other medical expenses, to assist patients and their families, and to support cancer education.
Show All
Since its founding in 2007, Alala Cancer Society has provided hundreds of thousands of dollars in monetary and in-kind assistance to cancer patients and survivors throughout South Carolina. In the 2015-2016 fiscal year alone, over $100,000 in monetary and in-kind support was given to those in need despite being a 100% volunteer run organization. Throughout the years, ACS has worked with Alala LLC, the University of South Carolina, Leadership Columbia, the Luminous Foundation, Susan G. Komen, American Cancer Society, Bra Recyclers, and more. We currently have donor closets stocked with lymphadema and mastectomy supplies in Columbia, Charleston, Rock Hill, and Greenwood to help us reach as many lives as possible.
Here are some of our favorite testimonials from the men and women that we've helped over the years:

"Thank God for people like you. Thanks for caring for us." - F.K.

"I was very pleased with my experience. I felt so much better about myself after being fitted with a form that made me feel whole and my old self again." - L.K.

"You know i love all of you for what you are doing to help women in need. I'm especially impressed with your charity closet." - F.P.

"They are so open to you. They understand how you feel and what you are going through." - S.C.

"I'm so grateful for your assistance today. The visit was very warm and friendly. My husband & I are very appreciative of your service. I love my beautiful new look and am looking forward to wearing them with pride. Thank you for making me whole again." - V.C.
Currently we have donor closets in Columbia, Charleston, Rock Hill, and Greenwood stocked with lymphadema and mastectomy supplies and, even though we're able to reach a great deal of individuals with these closets, there are still those in need who cannot make it to us for support. With the money raised from Midlands Gives, Alala Cancer Society plans to establish a traveling donor closet program where we stock a vehicle with post-surgical cancer supplies and travel to meet patients that cannot reach us on their own. It is our hope that we will reach more individuals overall as well as those with the most need.