Challenger Learning Center Foundation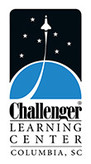 To engage students and teachers in dynamic, hands-on exploration and discovery opportunities that strengthen knowledge in science, technology, engineering, and mathematics (STEM). The Center inspires students to pursue careers in these fields, and provide an outlet to learn and apply important life skills.
The Columbia Challenger Center Foundation will also engage business and community partners in the Richland One School District, the region and the State of SC.
Show All
The 2016 Midlands Gives campaign will provide laptop computers for the Learning Center to enhance analytical and problem solving skills.
We will also provide STEM experiences for students to support their academic achievement in school and to inspire them to consider STEM careers.
Our Goals: Expand the Challenger Learning Center's reach and deepen its impact.
Structure the organization for maximum effectiveness and efficiency
Raise funds to support the Center's transformation, and Enhance our brand identity
Recently, the Challenger Learning Center held their annual Aerospace Day. Over 600 students and teachers attended.
Provide additional summer camp scholarships for children in underserved communities, e.g., Edgewood, Booker Washington Heights, T.S. Martin, etc.