St. Peter's Catholic School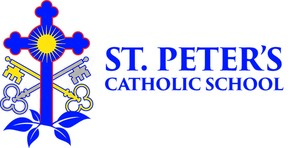 From four year old kindergarten through sixth grade, we provide an academically challenging education in a safe, nurturing environment. St. Peter's welcomes children from various different religious backgrounds. We are an economically and culturally diverse that school offers financial aid for children in need. Our mission is to nurture and challenge our students, so that all achieve their full, God-given potential.
Show All
We educate the whole child: mind, body, and spirit. Since 1852, the school has graduated young scholars of exceptionally good character. They become committed Christian adults, responsible citizens, productive employees, and outstanding leaders in the Capital City and beyond.
"St. Peter's is a wonderful school and offers an exceptional learning environment. All of the faculty and staff with whom I have interacted have been very helpful and extremely kind. I appreciate the job that everyone does to make this an awesome school." - Penny Jefferson-Bellesen, Grandparent

"St Peters is an exceptional school! The attention Ms Preston and all of the teachers give to each and every student is quite remarkable. We are very lucky and honored to go to such a wonderful caring school!" Becky Sampson, Parent

"St. Peter's Catholic School has been a Godsend to our family. Our daughter has learned so much academically and spiritually. Every member of the staff and faculty are dedicated to their jobs and it shows. In addition to academically excelling, our daughter is developing into a giving person and feels safe and nurtured at school." Tabitha Shobe, parent

"St. Peter's gave me a sense of structure and discipline that a lot of my current peers never got. It becomes very clear in middle school and high school who had structure and discipline growing up, as those who didn't, begin to fall by the wayside. At St. Peter's, the focus is on both academics and learning to be a good person." Sim Harmon, alumnus

"I support St. Peter's because they carefully steward money. By doing so, they have kept the school both excellent and affordable. Students receive a great academic foundation in a nurturing Catholic environment." Recent anonymous donor

St. Peter's taught me "to do unto others as you would have them do unto you." That really shaped my life, and now I have the joy of working for an organization(United Way) that actively works toward bettering our community," Becky Wych, alumnus



Funds raised by past participation in Midlands Gives have allowed the school to purchase a new Language Arts Program as well as new instructional technology, including 20 new ipads and ipad cart, an Epson 3LCD projector, and an Elmo interactive teacher's tool. In 2019, funds raised may be allocated to curriculum and technology upgrades as well as other areas that support the overall excellence of the school.