Elloree Heritage Museum & Cultural Center, Inc.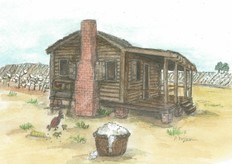 The purpose of the Elloree Heritage Museum & Cultural Center, Inc. is threefold: 1. To collect, preserve, exhibit, and document the past of the area. 2. To provide educational programs, activities, and exhibits for all age groups. 3. To promote art and culture that relates to and will enrich the lives of the present and future generations.
Show All
The museum portrays rural life when the Town of Elloree was founded by William J. Snider. Visitors experience a tour of Cleveland Street as it appeared in 1990 with recreated stores, a bank, and a hotel. They also explore a cotton gin, learn how cotton is grown, picked, and ginned today, and see the 18th century Snider Cabin, plus much more. All who visit the museum are inspired by the history that is so masterfully exhibited and soon come to understand why our town is named Elloree, the Native American word for "The Home I Love".
A few comments from our Guest Book:
"Enjoyed very much!" --- "You are so lucky to have such a wonderful museum!" --- "Excellent!" --- "What an amazing place!" --- "Very nicely done." --- "Better than ever!" --- "So proud of this museum." --- "Great History!!" --- "Great museum. Very impressed!" --- "Loved it!" --- "A hidden treasure." --- "Best tour ever!"
The funds raised through Midlands Gives will be used for the operation of the museum which could be applied to many areas such as exhibits, summer camps for youth, speakers on topics of historical or archeological significance to our area, workshops, musical programs, and timely activities.